Introducing the Gryphon™ I GM4100 Base Station with New Anti-Counterfeit Feature
Posted by admin
Jun 17
The Gryphon I GM4100 Base Station is now available in a model with Counterfeit Money/ID Document detection.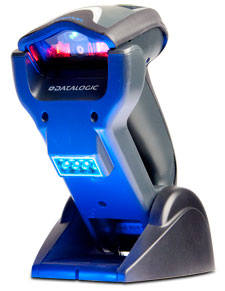 The European Central Bank recovered 447,000 counterfeit banknotes June-Dec 2009 worth EURO 25,479,0000. The Organization for Economic Co-Operation and Development estimates counterfeiting and product piracy costs the world's economies $USD 250 billion annually.
The new Datalogic Scanning solution will offer the same features as the standard Gryphon GM4010 Base Station, plus it will provide a simple solution to verify authenticity of Bank Notes and ID Documents, as well as the ability to detect a variety of key identifiers on any currency or document. This will allow the use of the scanner for additional activities besides data capture and provides additional savings to our customers in terms of:
The cost of an additional device for this purpose
Highly valuable counter space
Electronic detection for counterfeit currency, which has been up to the user to visually search for flaws in the currency
The BC4010 Gryphon Base Station is available with a UV Counterfeit Detector, typically used to verify the authenticity of Bank Notes. Other uses for the counterfeit detection include verifications on Passports, Travel Tickets, Credit Cards, Travelers Checks, Event Tickets and similar applications where it is possible to detect fluorescent marks using a UV light.
Contact us today to find out more about the new Gryphon I GM4100 Base Station with New Anti-Counterfeit Feature from Datalogic Scanning.