Datamax IQ Solution Kits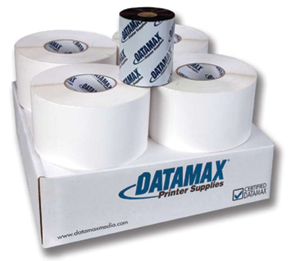 Datamax IQ T100 premium, thermal transfer kits offer the most innovative label-printing solution in the industry, with broad performance characteristics to provide high-quality barcode images. Specifically designed for Datamax's E-Class, H-Class, I-Class, and M-Class Printers. The Datamax IQ Solution Kits include premium, coated, bright-white, thermal transfer paper labels; premium, resin-enhanced wax ribbons; and a cleaning card.
Why Choose Datamax IQ Solution Kits?
Fewer transactions save you money

Reduced downtime due to larger rolls

You will reduce freight charges, waste, and save space

Certified labels designed for Datamax printers are the safe choice

Your printhead warranty will double

Exact Ratio of Labels to Ribbons Saves:
MONEY

: Each order transaction costs approximately $75. If labels and ribbons are ordered separately, there are two purchase orders totaling $150. By ordering the IQ Solution Kit (labels, ribbons, cleaning cards), there is only one transaction, which reduces your cost by 50%.

WASTE

: "Old" style ribbons do not always match up with the "old" style label roll counts, forcing operators to create waste by throwing away partially used rolls of ribbons or labels to make changeover more productive. Going "green" means reducing waste during your printing production, as well as via our shipping process. If labels and ribbons are shipped separately, both label and ribbon boxes are destroyed. The IQ Solution Kit reduces the number of boxes and cuts down on waste and recycling.

FREIGHT

: If you order 250,000 labels and ribbons, you'll receive 63 cases of labels and five cases of ribbons for a total of 68 cases at 1,690 pounds. Ordering 250,000 labels packaged in IQ Kits results in 59 cases or 1,570 pounds. You'll save 10% in freight charges by ordering the IQ Solution Kit.
4:1 Ratio Premium Thermal Transfer Kits for H-Class and I-Class Printers
Each Kit includes 4 Rolls of labels to 1 roll of ribbon
IQ t100 Premium Thermal Transfer Paper Labels - 3" Core 8" OD - Premium, Resin-Enhanced Wax Ribbons - Cleaning Card
| | | | | | | | |
| --- | --- | --- | --- | --- | --- | --- | --- |
| Part Number | Description | Labels/Kit | Labels/Roll | Rolls/Kit | Ribbons/Kit | Cleaning Card/Kit | List Price/Kit |
| T100-400150P38-KI1 | 4.00" X 1.50" | 16,000 | 4,000 | 4 | 1 | 1 | $ 115.06 |
| T100-400200P38-KI1 | 4.00" X 2.00" | 12,200 | 3,050 | 4 | 1 | 1 | $ 87.84 |
| T100-400250P38-KI1 | 4.00" X 2.50" | 9,900 | 2,475 | 4 | 1 | 1 | $ 90.03 |
| T100-400300P38-KI1 | 4.00" X 3.00" | 8,300 | 2,075 | 4 | 1 | 1 | $ 84.89 |
| T100-400400P38-KI1 | 4.00" X 4.00" | 6,300 | 1,575 | 4 | 1 | 1 | $ 84.61 |
| T100-400600P38-KI1 | 4.00" X 6.00" | 4,240 | 1,060 | 4 | 1 | 1 | $ 74.54 |
| T100-400350P38-KI1 | 4.00" X 6.50" | 3,920 | 980 | 4 | 1 | 1 | $ 81.40 |
| T100-400800P38-KI1 | 4.00" X 8.00" | 3,200 | 800 | 4 | 1 | 1 | $ 86.83 |
2:1 Ratio Premium Thermal Transfer Kits for H-Class, I-Class, & M-Class Printers
Each Kit includes 2 Rolls of labels to 1 roll of ribbon
IT T100 Premium Thermal Transfer Paper Labels - 3" Core 8" OD - Premium, Resin-Enhanced Wax Ribbons - Cleaning Card
| | | | | | | | |
| --- | --- | --- | --- | --- | --- | --- | --- |
| Part Number | Description | Labels/Kit | Labels/Roll | Rolls/Kit | Ribbons/Kit | Cleaning Card/Kit | List Price/Kit |
| T100-400150P38-KI2 | 4.00" X 1.50" | 16,000 | 4,000 | 4 | 2 | 1 | $115.13 |
| T100-400200P38-KI2 | 4.00" X 2.00 | 12,200 | 3,050 | 4 | 2 | 1 | $ 87.91 |
| T100-400250P38-KI2 | 4.00" X 2.50" | 9,900 | 2,475 | 4 | 2 | 1 | $ 90.10 |
| T100-400300P38-KI2 | 4.00" X 3.00" | 8,300 | 2,075 | 4 | 2 | 1 | $ 84.96 |
| T100-400400P38-KI2 | 4.00" X 4.00" | 6,300 | 1,575 | 4 | 2 | 1 | $ 84.68 |
| T100-400600P38-KI2 | 4.00" X 6.00" | 4,240 | 1,060 | 4 | 2 | 1 | $ 74.61 |
| T100-400650P38-KI2 | 4.00" X 6.50" | 3,920 | 980 | 4 | 2 | 1 | $ 81.47 |
| T100-400800P38-KI2 | 4.00" X 8.00" | 3,200 | 800 | 4 | 2 | 1 | $ 86.90 |
2:1 Ratio Premium Thermal Transfer Kits for E-Class 4204 and 4304 Printers
for the Datamax E-Class 4204 and 4304 Printers
2 rolls of labels to 1 easy loading pre-inserted spindle ribbon
IQ T100 Premium Thermal Transfer Paper Labels - 1" Core 5" OD - Premium, Resin-Enhanced Wax Ribbons with Take-Up Core - Cleaning Card
| | | | | | | | |
| --- | --- | --- | --- | --- | --- | --- | --- |
| Part Number | Description | Labels/Kit | Labels/Roll | Rolls/Kit | Ribbons/Kit | Cleaning Card/Kit | List Price/Kit |
| T100-400200P15-KI | 4.00" X 2.00 | 4,000 | 1,000 | 4 | 2 | 1 | $ 59.65 |
| T100-400300P15-KI | 4.00" X 3.00" | 2,760 | 690 | 4 | 2 | 1 | $ 63.14 |
| T100-400600P15-KI | 4.00" X 6.00" | 1,400 | 350 | 4 | 2 | 1 | $ 42.67 |