Zebra's Bar Code Printer Trade-In Program
Get Up To

$500.00

Off

A New Bar Code Printer!!

On March 1, 2010, Zebra Launched the "GO Zebra10" Trade-in Program. This generous trade-in program provides current Zebra users with an incentive for more quickly migrating to the newest Zebra Platforms.
Eligible Trade-ins: The full list of eligible trade-in printers is available below.
*Note: All trade in printers must power up and have a print head.
Program Date: Purchase must be completed between January 1, 2010 and December 31, 2010.
Rebate claims must be submitted by January 25, 2011.
Qualifying trade-in printers must be received by Zebra no later than January 31, 2011.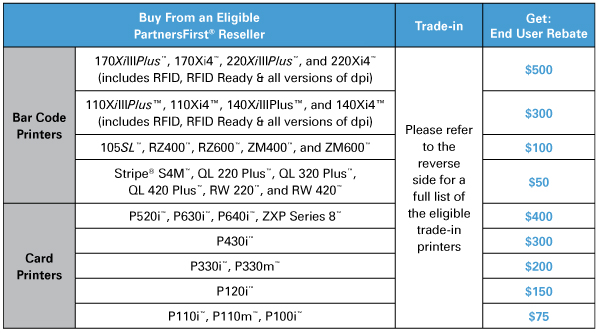 Go Faster. Go Smarter. Go Zebra10.